Description
Rearz Inspired+ InControl White Adult Nappy
Get  'Inspired' today with the world's most absorbent diaper.
This is the diaper for you if you are yearning to get back into a good quality plastic backed diaper.  Gone are the Cloth Backed products here.  This is a strong plastic backed product with a high capacity guaranteed to keep your skin dry whilst also being able to wear throughout the day or night – Ideal for both situations.
We have seen a lot of diapers in our time and just couldn't figure out why nobody offered a super high end diaper that also incorporates high end, brand name materials that can only improve the product.  So we took the initiative to make the world's most absorbent diaper.
Features
1. Brand name 5th Generation SAP gel:
This crazy gel has a 4x faster acquisition rate
Better retaining power, even under pressure
Higher capacity
Boasting at least 4900ml – 5400ml max capacity (that's 169oz or about 20 cups)
2. Brand name tapes
3. Thick core with USA grade A Fluff
4. Tall standing leg guards for extra protection against leaks
5. Elastic waistbands front and pack
6. Plain white, un-printed outer
7. Reinforced frontal tape that allows refastening
8. Thick Vintage style PE backing that has not been seen in at least 20 years
This product is for a single pack of 12 Rearz Inspired+ nappies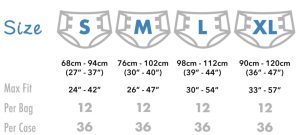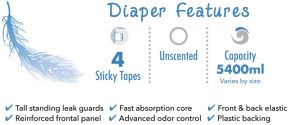 Select Quantities 
Samples – x 2 Nappies of your choice
Single Bag 12 Nappies
Cartons 3 Pks of chosen product.